Its influence on mainstream pop culture has been felt for decades, yet film and TVs take on the sport (were looking at you, Animal Kingdom and Point Break) have fallen woefully short.
Source: https://www.theguardian.com/tv-and-radio/2017/may/31/surfing-movies-tv-shows-animal-kingdom-point-break
At SXSW in Austin, Texas this year, US television channel TNT brought in a surfing simulator and created a pop-up beach to help promote their surfing-meets-crime-family show Animal Kingdom, the second season of which premiered on Tuesday. Its just the latest attempt from the worlds of television and film to embrace surfing with some form of gimmickry. The 1977 world champion Shaun Tomson summed it up like this when I spoke to him: Fictionalized representations of surfing have been trash. So why has pop culture, on the whole, got it so painfully wrong when it comes to depictions of surfing and surf culture?
The canon of mainstream surfing pop culture begins with Gidget. The film and TV series brought surfing at least, the Malibu version of it to the US. Based on the real-life journals of Kathy Kohner Zuckerman, its not as much about surfing as about a girl finding her place in the world, but the setting and depictions of surfing caused America to fall in love with if not surfing, then at least the idea of it.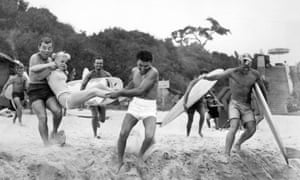 A scene from Gidget Photograph: Archive Photos/Getty Images
The go-to pick for when cinema almost got surfing right is John Miliuss Big Wednesday, from 1978. Also set in Malibu, it is a look at the lives of a group of friends against their relationship with the water. Its heavy with testosterone and features plenty of Gary Busey. The antithesis of Big Wednesday was Point Break Kathryn Bigelows 1991 surfing-meets-small-time-crime flick that was panned critically but went on to have a cult following and an ill-advised remake in 2015. Films such as Blue Crush and Soul Surfer followed in its wake and do manage to capture realities of surfing, and do so with female leads. On the other end of the spectrum is Matthew McConaugheys Surfer, Dude which rather predictably for a film with a title that bad has a 0% Rotten Tomatoes score. Another stinker was 2006s Surf School, rated the 41st worst movie ever on IMDb.
If Hollywood has had a hard time putting together a whole movie on surfing, individual characters proved just as hard to get right. Sean Penns Jeff Spicoli is a controversial pick among surfers. Some say he furthers a negative stereotype of the stupid surfer. Others, with a sense of humor and self-confidence, know that this character has a solid basis in reality. Robert Duvalls Bill Kilgore from Apocalypse Now represents the closest you will get to a universal consensus in these matters among surfers. We have all done dumb things to get waves. Whether its punting relationships, ditching work and school, taking ill-advised leaps off slippery rocks into heavy surf (or all of the above at once), we all understand that characters motivation. There is some of Kilgore in all of us.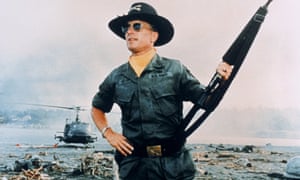 Surfs up: Robert Duvall as lieutenant colonel Bill Kilgore Photograph: Allstar/United Artists
On TV, Animal Kingdom is not breaking any new ground with its depiction of low-life criminal surfers (see: Point Break). But in The OC, Peter Gallaghers Sandy Cohen was an anti-Spicoli: here was a responsible, middle-aged father and heart-of-gold lawyer who also surfed. Other shows such as John from Cincinnati, Hawaii Five-O and Baywatch featured surfing, but it plays a bit part compared to shows such as Gidget.
Surfing documentaries are where things begin to click into place and use a solid formula: travel to exotic locales, film beautiful scenery, take on personal searches for undiscovered waves and existential meaning. Bruce Browns The Endless Summer is the most revered, but there are several documentaries which kill it. Bustin Down The Door sticks out for both its success in charting the birth of the mutlibillion-dollar modern surf industry and the Aussies and South Africans who took on the Americans in Hawaii during the 1970s.
The Endless Summer trailer
The new docs pumped out by surf brands can be counted on for truly stunning cinematography and the most progressive surfing. Anything by the Malloy Brothers makes it in, and homemade fare from surfers such as new superstar John John Florence is worth checking out too.
When it comes to surfing literature, go straight to William Finnegans Barbarian Days, a beautiful personal account of a life with surfing from the New Yorker writer who first managed to sneak the sport into the pages of the magazine. Dan Duanes Caught Inside and Jim Winstons Breathe do full justice to the search and payoff as well. Any discussion of surf-influenced culture should rightly begin with John Severson, who died last Friday. Severson founded Surfer magazine and is credited with also founding the modern surf media industry. His painting, photos and films resonated with surfers in a way, in the late 50s and 60s, they had never experienced before. It served as a counterweight to Gidget and the beach party films, at first, and the endless commercialization that followed.
If you seek to find out whether a surfing-related film or song or photo is authentic, it occurs to me that the best standard relates back to something Shaun Tomson said in his documentary. Ive been through some tough times surfing can make it better. And if what you are experiencing captures that in any way, then it captures surfing.
Read more: https://www.theguardian.com/tv-and-radio/2017/may/31/surfing-movies-tv-shows-animal-kingdom-point-break
More On Surfing Culture:
http://www.surfer.com/
http://surfingdictionary.com
http://www.surfline.com