A crater on the summit of Kilauea volcano in Hawaii erupted with a powerful explosion early Thursday, hurling boulders and volcanic debris hundreds of feet into the air.
The eruption sent a massive plume of ash into the sky that reached 30,000 feet ― or five miles ― high. An eruption the night before caused a smaller explosion.
U.S. Geological Survey scientists had been warning residents about an explosive display as unpredictable fissures spewing lava, poisonous gases and hundreds of earthquakes have plagued the Big Island and devastated homes for the last two weeks.
They expect similar eruptions to occur in the near future, said Steve Brantley, deputy scientist-in-charge for the Hawaiian Volcano Observatory.
Scientists with the U.S. Geological Survey had already evacuated the volcano observatory near the crater, but cameras at the summit captured Thursday's explosion.
The first recent "significant explosive event" occurred at a vent in the Halema'uma'u Crater on Wednesday night at around 6 p.m. local time. The second, larger, explosion occurred just after 4 a.m. and lasted for several minutes.
The summit's crater is far from residential areas in Hawaii Volcanoes National Park, which has been shut down amid the explosions.
"We expect activity could wax and wane like this in the near future," USGS volcanologist Michelle Coombs said in a Thursday morning update.
Coombs noted that rain in the area has helped minimize ash, limiting it mostly to the Kilauea summit area.
"At any time, activity may again become more explosive, increasing the intensity of ash production and producing ballistic projectiles near the vent," USGS said on Thursday.
It is unclear what the fallout from the recent explosions looks like, as scientists have been ordered to stay away from the area for safety.
The explosions could have launched boulders weighing as much as 12 tons ― roughly the size of refrigerators ― up to half a mile, according to USGS.
Cheryl Chipman of Hawaii Volcanoes National Parksaid during a Thursday press call that the largest boulders could fall within a mile from the crater, while "marble to pea-sized rocks" could fall within four miles of it.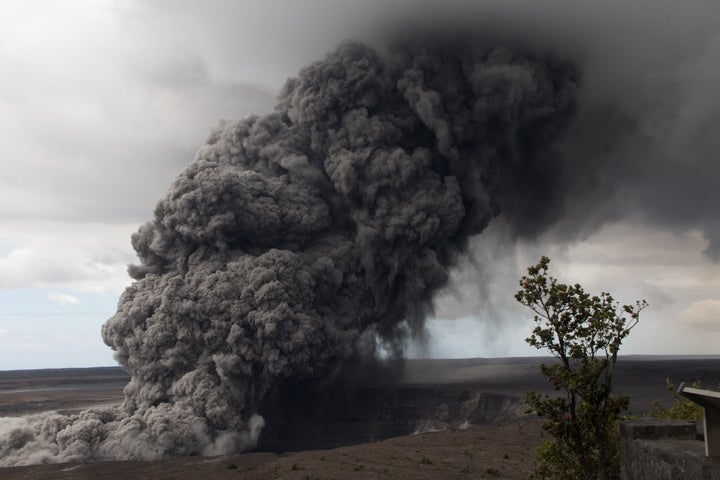 Big Island resident Linda Ugalde told the Honolulu Star Adviser that she didn't hear or feel the explosion itself but noticed a fine layer of ash in her yard afterward.
"It's totally weird," Ugalde said. "I mean, I expected there would at least be one of the bigger earthquakes just before, or a boom or something."
Residents of the Big Island are being advised to shelter in place if they're in the path of the ash plume and to avoid driving in conditions of poor visibility.
Roads coated in volcanic ash can also become extremely slippery.
"During explosive eruptions, volcanic ash can disrupt downwind populations by causing breathing problems, impacting water quality, clogging air filters, shorting out power systems and making transportation difficult," the USGS warned on Thursday.
The agency advised people in the area to seal windows and doors, cover air intakes and open water sources, and remain indoors. Anyone who has to go outside should cover their mouths with a mask or cloth.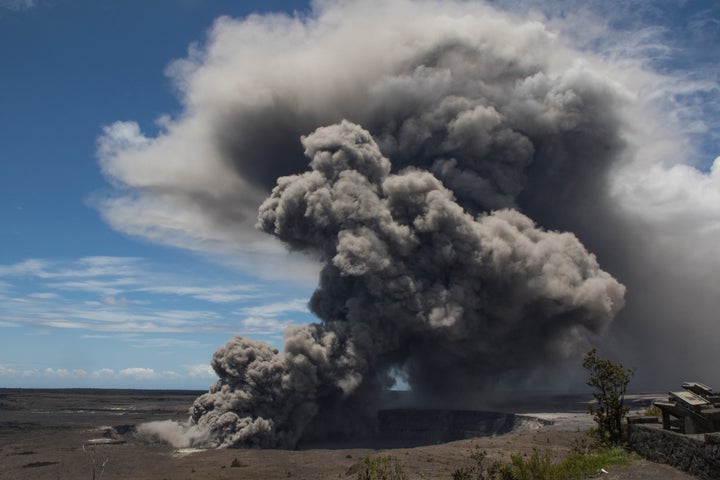 The ash plume, which was already 12,000 feet high on Wednesday, soared to 30,000 feet after Thursday's explosion, according to USGS.
Also on Wednesday, a vent inside the crater began emitting what the agency calls "ballistic blocks." The dense, microwave-sized boulders traveled a few hundred yards before coming to rest in a parking lot nearby.
Kilauea volcano has been continuously erupting since 1983, but activity picked up on May 3 after new fissures opened up in the Leilani Estates subdivision of the Puna district, located on the volcano's lower east rift zone.
Since then, at least 20 fissures have opened up and erupted with lava, claiming dozens of homes in the area. Two thousand residents have been evacuated from their homes, as one fissure continues to splatter lava.
In light of the activity, the USGS has issued a warning and code red, its highest alert levels, for Kilauea volcano and its summit as toxic gases and ash continue to inundate surrounding areas.
Read more: http://www.huffingtonpost.com/entry/kilauea-volcano-erupts-hawaii_us_5afda862e4b06a3fb50eb361