Breakouts of lava have been slowly consuming sections of forest on the rural southeast corner of Hawaii's Big Island for several months.
Kilauea, one of the world's most active volcanoes, has been continuously erupting for more than 33 years. It claimed one home and threatened a small community in 2014.
But because the flow isn't currently staring down any populated areas, the lava is pretty much out of sight and out of mind.
It's only when geologists hike out to the flow fields, or when helicopters take to the skies, that we get a peek at the fiery, destructive action taking place.
And from a bird's eye view, it's completely mesmerizing.
In footage recorded in late April, lobes of molten rock are shown eating away at the edges of a forest, burning trees and other vegetation.
The flow fields are also seen giving off plumes of steam, which happens after rain falls on them, according to Hawaiian Volcano Observatory geologist Janet Babb. Even though the lava appears dark, suggesting it has cooled, it can still be dangerously hot.
Though this process happens slowly, it's an impressive example of how unstoppable nature can be. And the ever-advancing flow field is just one act in Kilauea's incredible performance.
The footage also shows red-hot outbreaks oozing through lava fields, and a vigorously spattering lava vent. And if that's not enough excitement, there's a pond of lava bubbling nearby.
Though it's business as usual for most residents on the Big Island, the burning vegetation can cause trouble in certain conditions.
It "can be problematic if the wind blows the smoke toward residential areas," Babb told The Huffington Post. "How much of a problem it creates depends on how much smoke there is, which way it is being blown, how sensitive people in its path are to the smoke."
So, if you're sensitive to smoke, steer clear of this newly barren forest: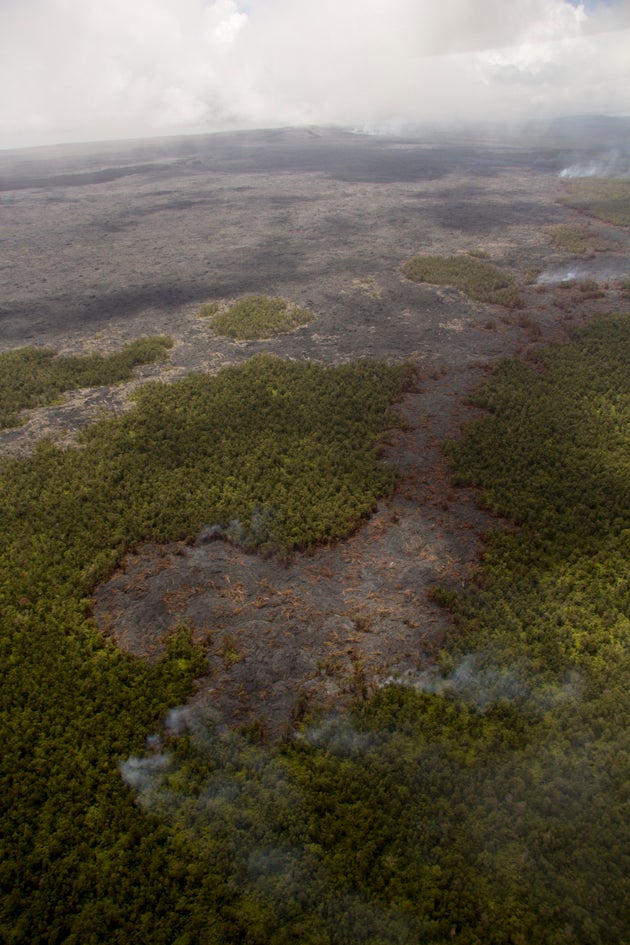 If you want to follow Kilauea's activity more closely, check out USGS daily updates here.
Watch the full video below:
Read more: http://www.huffingtonpost.com/2016/05/10/lava-forest-hawaii_n_9918104.html