Herd that once numbered 500 has been reduced to 50 in an effort requiring the social animals to be adopted with fellow creatures: They have to have a friend... Hawaiians are rounding up the last 50 donkeys of a feral herd that once roamed 500 strong, and searching for residents to take the asses in.
David Paul Sennett, for instance, had a stuffed donkey as a child but always wanted a real one. Decades later, his childhood dream came true when he adopted Barney, a wild donkey from Hawaiis Big Island who was orphaned when his mother was killed by a car.
Hes just like a big dog. He loves to eat bananas and papayas, said Sennett. Hes very friendly.
About three years later, Sennett is about to adopt another donkey, one of the remaining 50 wild donkeys on Hawaiis Big Island. The donkeys are the last of more than 500 that were cast-offs from the early days of Hawaii coffee and agricultural plantations.
Were hoping to get a female thats pregnant and then well have a family, said Sennett.
The Humane Society of the United States and Big Island residents were working Friday to prepare the remaining donkeys for adoption, marking the final step in a six-year effort to get them in adoptive homes. All the donkeys will get checked by a veterinarian before theyre taken to their new homes.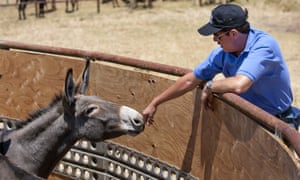 Read more: https://www.theguardian.com/us-news/2016/may/21/hawaii-feral-donkey-adoption