These Haunting Paintings Show What Hawaii's Volcanoes Looked Like Before ... - Huffington Post
by
James Cave These Haunting Paintings Show What Hawaii's Volcanoes Looked Like Before Color Photography
Jules Tavernier, "An Eruption," late 1880s
We've all heard of the Hudson River School and the Barbizon School, but how about the Volcano School?
In the 1880s and 1890s, Mauna Loa -- Hawaii's biggest volcano -- kicked off an eruption that brought lava closer to the town of Hilo than ever before.
Hawaii residents and tourists alike flocked to the Big Island for a chance to see the eerie orange glow over the city of Hilo, and -- in the days before color photography -- painters were among the most eager to witness and recreate the explosive lava plumes and vibrant flows.
Painters such as Jules Tavernier, Charles Furneaux and Joseph D. Strong -- buoyed by a growing commercial interest in landscape paintings -- traveled to Hawaii and trekked across the rugged terrain on multi-day journeys. The sulfuric gases and intense heat of the volcanic vents made it impossible to set up an easel and canvas on site, but the artists sketched and took mental photographs that they then recreated in their studios.
Known today as the Volcano School, their work is Hawaii's version of plein air painting, and it brought the ghostly and wondrous images of Hawaii's volcanic eruptions to the masses 135 years ago. According to Encounters with Paradise: Views of Hawaii and its People, by David Forbes, island printmaker Huc-Mazelet Luquiens considered this period "a well-marked awakening... a little Hawaiian renaissance."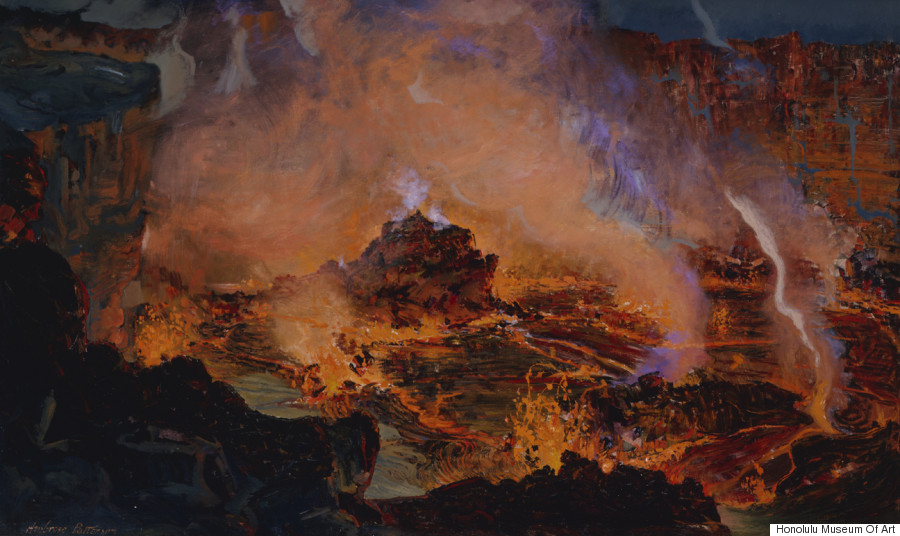 Ambrose Patterson, "Mount Kilauea, The House of Everlasting Fire," 1917
Of all the "old masters" of Hawaii painting, Tavernier is considered the most famous. A renowned and accomplished painter of landscapes of the American West (he could paint with both hands at the same time), the Frenchman was a tempestuous drinker and an adventurer. He was described as volatile, explosive and peppery -- much like the volcanoes he painted -- and fled to Hawaii to escape his debts.
He was "the spark that set off the Volcano School," according to Don Severson, Michael Horikawa and Jennifer Saville, authors of Finding Paradise: Island Art in Private Collections. By the mid 1880s, his depictions of Kilauea crater "created the movement that endures as Hawaii's unique contribution to American regional art."
Tavernier was able to bring out the volcanoes' demons -- and paint them on large scales. In 1886, he painted a cyclorama of Kilauea's erupting crater, an immersive 360 degree canvas meant to be viewed from the inside. It was 11 feet high and 90 feet long. According to Joseph Theroux, who wrote about Tavernier for the Hawaiian Journal of History, the piece was described as "wonderful, beautiful [and] grand... Hawaii's Wonder."
After touring Maui and Honolulu, the cyclorama was scheduled to be sent to Chicago, Philadelphia, Boston and London, but it was claimed by a creditor and stored in an attic somewhere in Maine, and has never been seen since.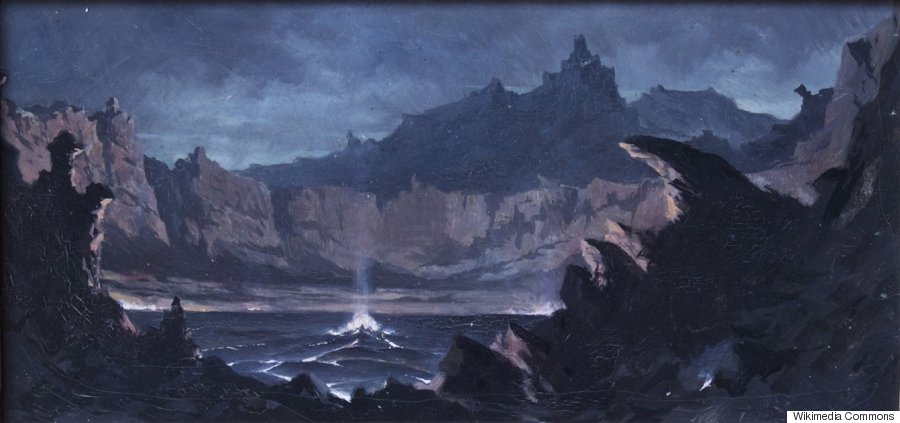 Jules Tavernier, "Kilauea Caldera," c. 1885-1886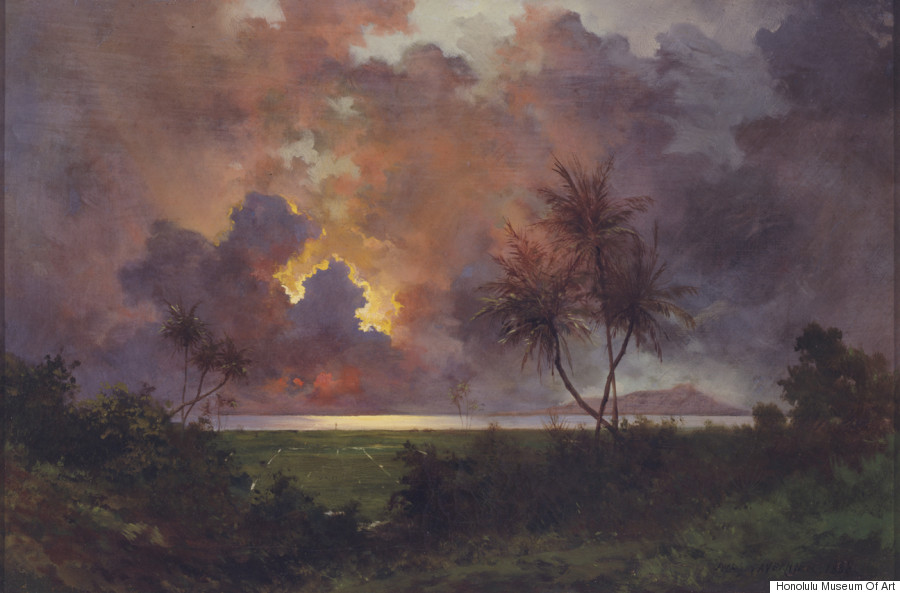 Jules Tavernier, "Sunrise Over Diamond Head," 1888
Today, the Honolulu Museum of Art, the Bishop Museum, and the Lyman Museum -- all in Hawaii -- proudly display Volcano School paintings in their collections.
"Volcano School painters celebrated what they perceived to be natural wonders of the world," Healoha Johnston told The Huffington Post. She's the assistant curator of Arts of Hawaii at the Honolulu Museum of Art, where eight of these paintings are currently on view. "Work by the Volcano School painters exemplifies a fusion between European Sublime aesthetics, Romantic landscape, and the American landscape traditions, characterized by scenic depictions of the natural world -- in turbulence or grandeur -- and human beings' relationship to nature in a time of expedition."
Other major collectors include both legacy Hawaii residents like Samuel Cooke, whose great-grandmother Anna Rice Cooke founded the Honolulu Academy of Arts (now known as the Honolulu Museum of Art) in 1922, and newer residents from the mainland.
Explaining the Volcano School's popularity, Cooke explained to the Wall Street Journal that "Hawaiian art took off when a lot of wealthy people started coming here from the mainland, these guys from Silicon Valley. What is the best way to be an instant Kama'aina, or longtime resident? Put one of those Volcano School paintings on your wall."
If only we could.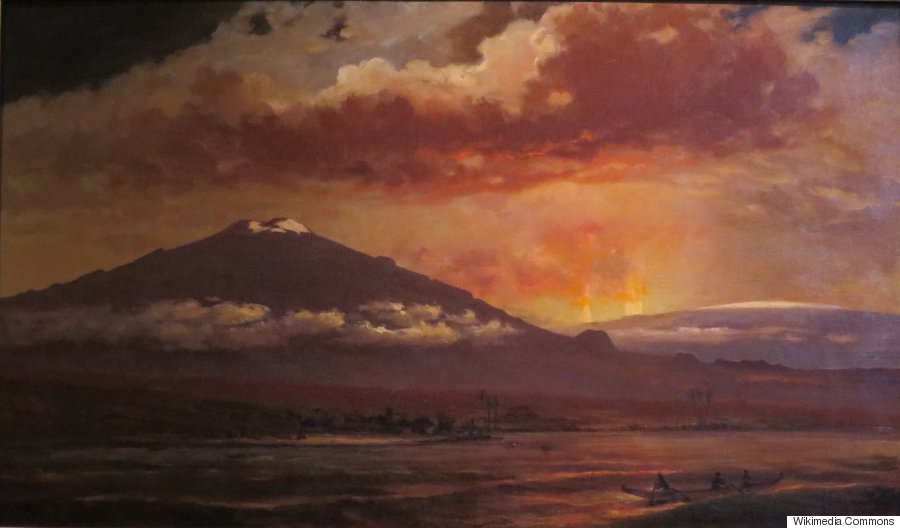 Charles Furneaux, "Eruption of Mauna Loa, November 5, 1889, as Seen from Kawaihae," date unknown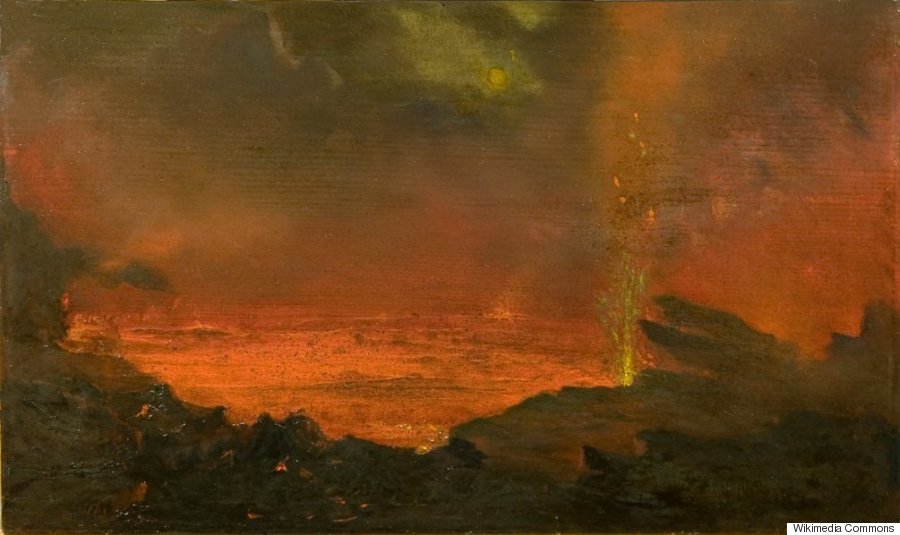 D. Howard Hitchcock, "Halemaumau, Lake of Fire," 1888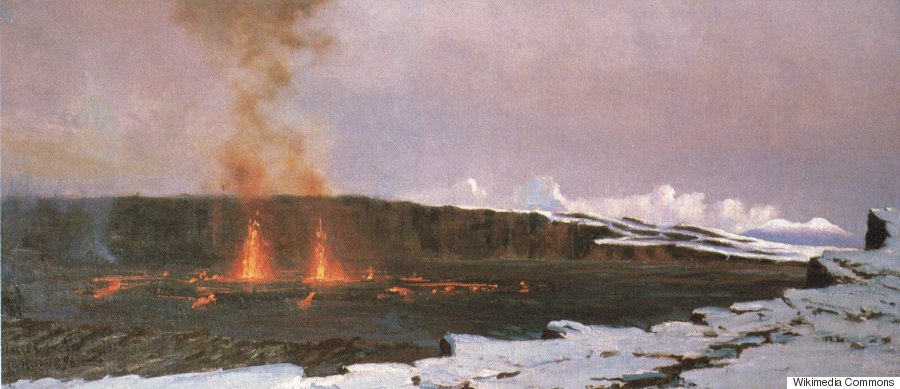 Jules Tavernier, "Mokuaweoweo at Top of Mauna Loa," 1896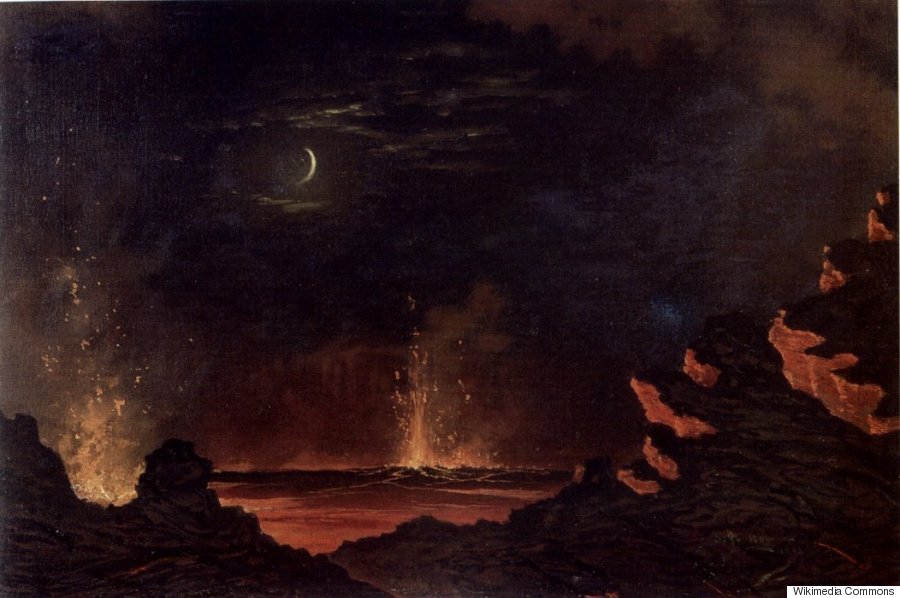 Ogura Yonesuke Itoh, "Kilauea," 1908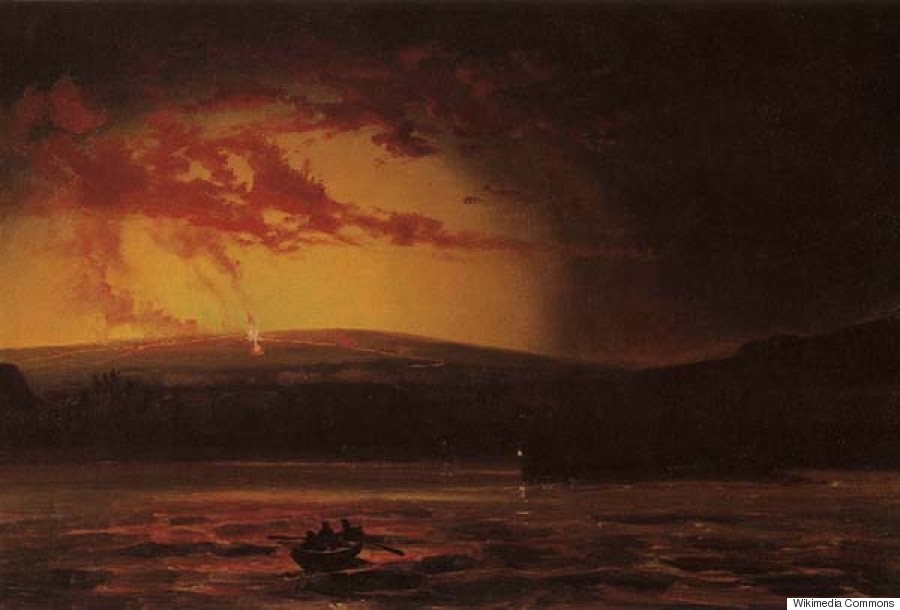 Charles Furneaux, "Eruption From Hilo Bay," 1881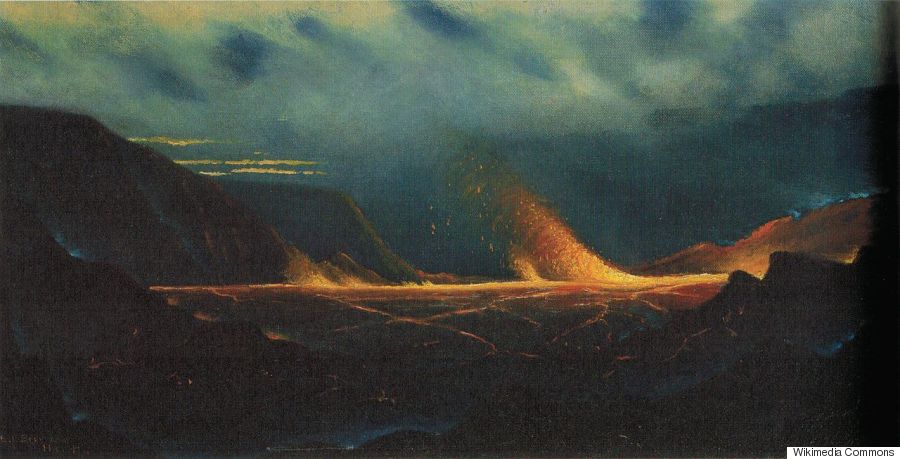 Eduardo Lefebvre Scovell, "Kilauea," 1890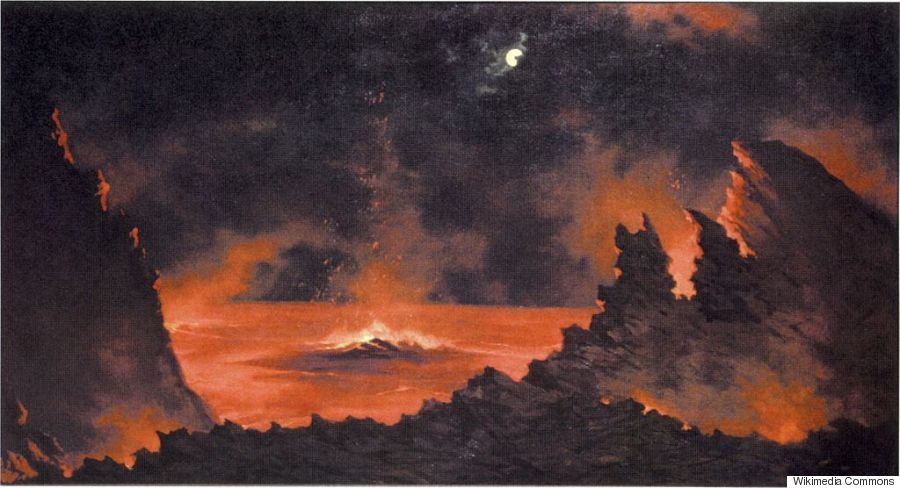 Jules Tavernier, "Volcano at Night," c. 1880s
Source: These Haunting Paintings Show What Hawaii's Volcanoes Looked Like Before Color Photography