(CNN)Ahhhhh, Hawaii.
Just saying that word out loud stirs fantasies of a tropical vacation playground with leis, luaus, swanky resorts and hula dancing.
Hula schmoola. Hawaii gets more interesting if you ignore all that noise.
Photographer
Phil Jung
has ripped away the fake veil of tourist destinations and Hollywood cliches to reveal the real Hawaiian island of Oahu.
He shows us a unique perspective of the island that's home to Honolulu, Pearl Harbor, Waikiki, Diamond Head and surfing's hallowed North Shore.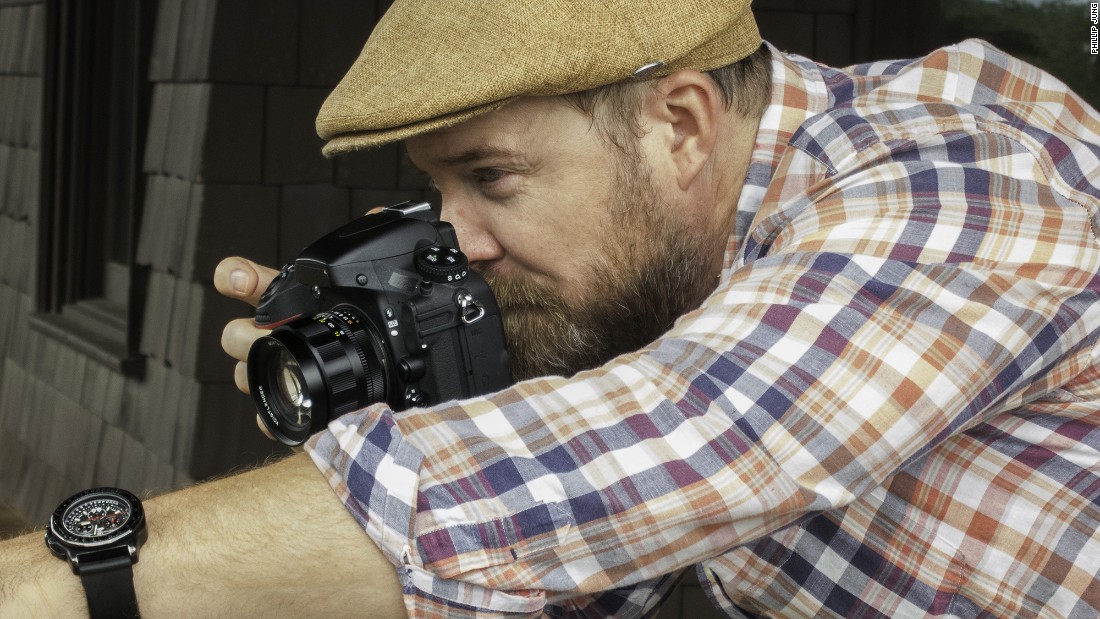 Jung -- armed with a large-format, 4x5-inch camera -- explored less famous areas, such as bus stops, parks, rivers and other places where real life happens.
"These images -- for me -- are trying to complicate the idea that all Hawaii is is this kind of beautiful, lush paradise. There's a lot more to it," Jung said. At the same time, he points out that he begins each project with no agenda. "I just want it to feel transparent."
One example is Jung's fascinating study inside the front seat of a Hawaiian car (No. 13 in the gallery above).
What you have with this photo, he said, is representative of a proud, working-class community.
"I don't know this individual well, but it looks to me like he works pretty hard," Jung said. Paraphernalia thrown throughout the car tells the story.
"He's got his boots in his car. You can tell he's got his L&L Hawaiian Barbecue (a famous local fast-food chain) and his can of Aloha Maid soda (a classic local beverage). He's got to eat in his car to get his lunch before he goes to his next job."
What's the point?
It's like this: When Jung tells folks on the mainland he lives in Hawaii, they often say, "Oh, how lucky you are!"
"And of course I am lucky, it's beautiful being here," Jung explains. "But just like everyone else, I don't walk outside my house and someone puts a pina colada in my hand."
And for many people in the state, just like anywhere, making a living can be hard. There are many who've created good lives for themselves, but it's not a life you'd call "magical," Jung said.
Jung, a native New Yorker, landed a gig in 2014 as a visiting professor at the University of Hawaii. Speaking with him on the phone last week, you could hear his unfiltered enthusiasm about exploring his new surroundings via photography.
"I've got this curiosity that just drives me," he said. "It's driven me from the first time I picked up a camera -- and it wasn't until I was in college that I picked up a camera seriously, so it's been nonstop since then. I can't think of a time that I wasn't photographing in the last 20 years or so."
Jung's curiosity about Hawaii has led him to explore the connection between the land and its people.
What does it mean to be Hawaiian? As Jung discovered, it's much more than having a Hawaiian address.
For some folks who might move to New York, Jung said "it's like you move your stuff into your tiny little apartment, and two weeks later you buy your Yankees cap and you feel like you're a New Yorker, right? In Hawaii, that's not how it goes."
To be considered someone who's from Hawaii, you've got to have ties that go back centuries.
"Basically if you've been here for two, three or four generations, then maybe you're considered a local," he said. "And that's somebody who's been here for a number of generations. But you're still not considered someone that's from here."
The deep, cultural ties between Hawaiians and the islands are represented in Jung's photograph of a young man named Keoni, who's sitting on a bench at a bus stop.
In the upper left of the photo -- photo No. 5 in the gallery above -- is a sign reading: "New City What A Pity."
The sign references that the area is up for development, Jung said. "A lot of people want to keep the country the country. They're saying, 'We don't want any more development.' You see that happening a lot here."
Tradition calls for the land to be protected because it's so deeply tied to the culture and the belief that no one can really "own" it. "The spirit world possesses everything, including the land itself," Jung said.
The couple kissing
In his search for the real Hawaii, Jung said he owes credit to the "photo gods" who helped him capture an image that turned out to be photographic "gold."
One day, after hours of driving around Oahu looking for photo subjects, Jung didn't have much more than a couple of shots.
He decided to cut his losses and quit for the day. So he started driving home until he spotted a couple kissing on a roadside guardrail next to a pickup truck.
Realizing the potential of the image, Jung thought, "Man, that's incredible."
Immediately, he turned his car around, parked, introduced himself and asked the man and woman if they wouldn't mind continuing to canoodle.
And then, as Jung put it, they just began "smooching away."
"I couldn't have asked for more things coming together and making a photograph work," he said.
The man wore a cast on his left foot and leg. The cast happened to match his tank top and the color of the truck. Then you've got that watermelon, screaming with its green and red.
Jung said he could never have thought of that image in his head: "It's just something I was able to pluck out from reality itself."
He said he tells his students, "When it's good, reality becomes way better than anything you could make up."
For Jung, the images are the final result of a broader experience. Like a family he photographed on Oahu's west side.
In the photo -- No. 17 above -- three family members are sitting on a pickup tailgate looking straight at the camera, while two others are in chairs looking out at the Pacific.
"I spent a good amount of time with that family," Jung said. "I must have taken I-don't-know-how-many shots because I didn't feel like I had the shot that I wanted. Afterward they were like, 'Oh, do you want to hang out?' " The experience of meeting and interacting with the people in his photos affects the outcome of his images.
That happens a lot, Jung said. "I end up connecting and having a real experience with the people that I'm photographing. I think that's important, and I hope that's what comes through."
Read more: http://www.cnn.com/2016/08/18/travel/cnnphotos-oahu-hawaii/index.html