Alison Teal is no stranger to extreme adventures.
She practically grew up traveling the world as a real-life "Tarzan Child" and even won Discovery Channel's Naked and Afraid survival challenge all by herself.
But the survivalist and filmmaker's latest stunt landed her in hot water. Literally.
Teal paddled on her signature pink surfboard last week to the base of a sea cliff  where 2,000-degree lava from Kilauea volcano is flowing into the ocean on the southeastern coastline of Hawaii's Big Island.
"You know when astronauts go to space and they get this powerful awe and appreciation for the planet? It feels like that," Teal told The Huffington Post of the experience. "I felt more connected to nature and the ocean than ever before."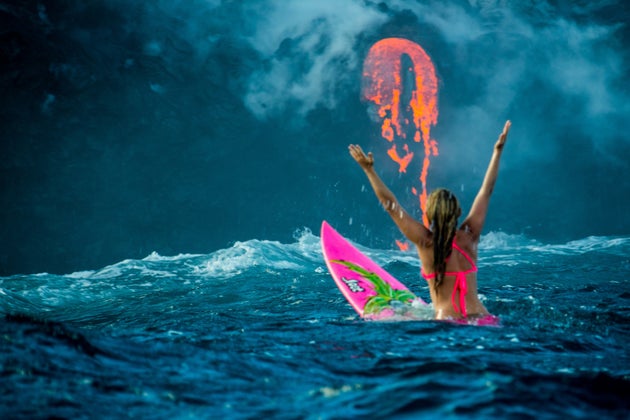 The conditions were extremely dangerous, but Teal and her crew are experienced with Hawaiian waters, Kilauea volcano and its lava.
Teal got permission from local Hawaiian families to swim up to the lava (from a safe distance, of course) and pay her respects to Pele, the Hawaiian goddess of volcanoes. A double rainbow formed over the boat and the lava as her parents (both veteran photojournalists for National Geographic) watched from the cliffs above.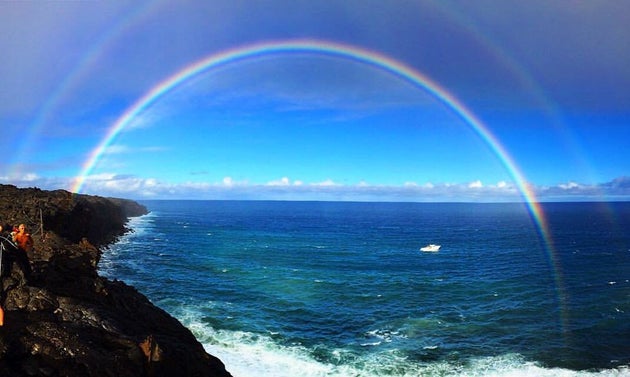 Teal had achieved her childhood dream when she completed the feat, which she found very powerful.
"Even though I thrive and live for adventure beyond anything else, this experience was all-consuming," she told HuffPost. "When you pull up and see waterfalls of lava coming over a 100-foot cliff and hear the crackling and hissing and feel the steam, we all looked at each other and just said, 'Wow.'"
"It's the majesty of Pele," Teal added. "Of nature."
Underwater photographer Perrin James filmed the expedition, which is exhilarating to see even from the safety of a computer screen.
Teal, a filmmaker who focuses on survival strategies and environmental issues, grew up in front of a lava field in Hawaii. She knew that trying to surf the waters near molten lava would be a matter of life and death.
Lava produces dangerous steam when it enters the ocean and causes the surrounding waters to rise to extremely high temperatures. So Teal swam around the area testing the heat before paddling to the lava. She was going to attempt to surf the swell near the base of the cliff, but she scrapped that plan after a falling hardened rock of lava almost hit her.
"I quickly ducked under water," Teal said. Then, "I looked back and noticed a wave was coming and I paddled for my life to get out of the danger zone."
Hours later, Teal learned that an entire shelf of land broke off into the waters where they were swimming.
"It was humbling and breathtaking," Teal later wrote of her experience on Instagram. "The rawness, the heat, the crackling & hissing sounds, the reality check that we live on a planet that is alive."
Read more: http://www.huffingtonpost.com/entry/alison-teal-surfs-lava_us_57abc818e4b06e52746f411b?section=&
Save